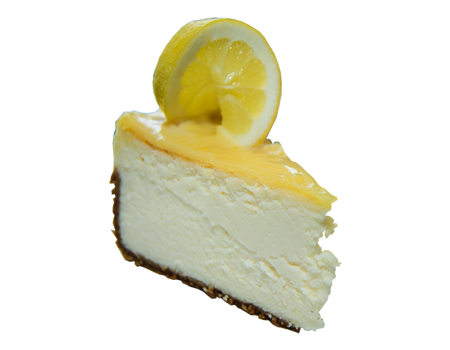 Luscious Cheesecakes
Each cheesecake is created by hand – one at a time – with only the finest all-natural ingredients. Our cheesecakes (traditional or inventive) will certainly awaken your taste buds.
A traditional cheesecake prepared with a hint of brandy in a rich, buttery graham cracker crust.There is nothing ordinary about this great tasting cheesecake.
Our interpretation of a French classic. Luscious cheesecake swirled with caramel and pieces of our own pralines. How can you top that? With caramel and candied pecans, of course.
A traditional New York-style cheesecake crowned with caramel, chocolate, and roasted pecans. Worth sticking your neck out for.
Vitamin C, anyone? Hand-squeezed lemons bring life to this rich and creamy treat. A rich, buttery graham cracker crust provides the foundation for this fresh and sweet dessert. Your taste buds will thank you.
Shades of Chocolate Cheesecake
For all true chocolate lovers. Imagine chocolate cheesecake swirled with white chocolate chunks and crowned with a warm white and dark chocolate ganache (glaze). All that in a crust of Oreo™ cookies. Almost to pretty to eat!
Get ready to pucker up! The unique tartness of Key limes steals the show in this sharp and sweet dessert.
Freshly squeezed juice and zest share the 'lime'-light' with a topping of Key Lime curd and snuggled in a crust of rich, buttery graham cracker. Are your ready for your close-up?
Need more vegetables in your day? We take this family favorite to a whole new level with cheesecake. A mixture of fresh sweet potatoes, butter, sugar, and spices are enveloped in buttery graham cracker crust. The treat will soon become your family's tradition.
Traditional treat with a twist. Our decadent New York Cheesecake is swirled with our special Gala apple cinnamon compote then topped with caramel and candied hazelnuts. Mom would approve.
Sizes:
8" x 2" – serves 6-8 $25
9" x 2" – serves 10-12 $35
9" x 3" – serves 10-12 $45